From placenta smoothies to pregnancy belly casts, finding your ideal pregnancy and birth experience is a hot topic. Now, umbilical cord blood banking' is one of the latest trends buzzing around the celebrity landscape.
So, what is cord blood banking and which celebs have been getting involved?
Cord blood banking
Cord blood banking is the process of removing residual blood and tissue from a baby's umbilical cord and placenta and storing it for future use in stem cell treatments. The umbilical cord is probably the most powerful source of stem cells available and you have a once-in-a-lifetime opportunity to preserve you baby's perfect match – moments after they are born.
These cells are already used routinely to treat blood and immune diseases like leukaemia and anaemia, and have demonstrated huge potential in clinical trials to treat conditions from cerebral palsy to heart disease, diabetes and stroke.  They really are the future of medicine.
Who has got involved with celebrity cord blood banking? 
In recent years, cord blood banking has become a standard feature of most celebrities' birth plans, including the likes Audrina Partridge, Mario Lopez and even Kim Kardashian.
Many others are following suit and are now joining a long list of UK and international VIPs investing in the process…
1) Nick Carter 
Back in 2016, Backstreet Boy, Nick Carter, revealed on social media that he had stored his baby's stem cells in a private cord blood bank. The singer captioned '#LOOKITUP' on the post, encouraging fellow parents to get to know more about the cord blood banking process.

2) Giuliana Rancic

Italian-American entertainment reporter and TV personality, Giuliana Rancic, has also banked her baby's blood. Giuliana and husband Bill made the decision to bank following infertility problems and a breast cancer diagnosis. The couple have previously highlighted the importance of cord blood banking, particularly for people with a family history of diseases.
Giuliana and Bill have also played a significant role in raising cord blood awareness, launching a campaign to inform parents about the available options for preserving stem cells from baby's cord blood.
3) Ana Ortiz
Best known for her role as Hilda Suarez in Ugly Betty, Ana Ortiz has also opened up about her experience with cord blood banking. The actress believed it was a "proactive way of planning for the worst". After receiving a collection kit during her baby shower back in 2011, Ana said that if offered her "peace of mind" for the future – not only for her baby but for the rest of her family too.
 4) Charley Webb
Emmerdale star and now mother-of-three, Charley Webb, has announced just this month that she saved her newborn son's umbilical cord blood stem cells. Husband and fellow Emmerdale actor Matthew Wolfenden cut the umbilical cord, which allowed the non-invasive procedure to get underway. Reflecting on the process, the actress who plays Debbie Dingle on the programme, stated: "I think more people should do it, as it could save lives".
5) Harry Judd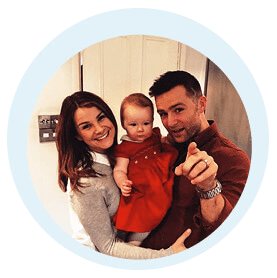 McFly drummer, Harry Judd, and his wife Izzy, professional violinist and author, have also chosen to bank their baby's cord blood with Cells4Life. After conducting their own research into stem cell collection and storage, the couple banked their daughter's stem cells after she was conceived using IVF treatment.
The drummer said: "As a parent you naturally want to protect your child, and taking the stem cells at birth is the easiest and most pain-free way to do so."
6) Zoe Gillings-Brier
In summer 2019, four-time winter Olympic snowboarder, Zoe Gillings-Brier, announced that she would bank the stem cells of her second child, Jake, after going through the same process with her first born, Lea. Her decision to do so came shortly after learning that stem cells can also be used to repair sporting injuries and speed recovery time. Zoe has had her fair share of injuries, having endured a cracked skull, several concussions and breaking a total of 8 bones in one of her feet. The mother-of-two also used the services of Cells4Life and recently told the Telegraph; "(I'm) hoping my children will be active in their lives, if they do get injured, they'll hopefully have the opportunity to repair that injury by using their stem cells."
Benefits of cord blood banking

And its not just VIPs who are getting behind cord blood banking…
According to an article published by the BBC in May 2019, there has been a sharp increase in the number of parents getting involved with private cord blood banking. Recent figures demonstrate that the number of cord blood and tissue units banked privately have increased significantly from 16,965 units in 2014 to over 27,000 units in 2018.
Banking a baby's stem cells has numerous benefits for not only the baby, but the entire family. The cord blood stem cells stored can provide a 100% perfect genetic match for the baby and even a 75% possible match for siblings too.
As mentioned previously, stem cells also have the potential to become a life-saving resource for many people suffering from different conditions and diseases. Stem cells can be used to treat over 80 diseases and conditions including blood disorders, immune and genetic diseases and even some cancers such as leukaemia. More than 7,200 clinical trials are also ongoing, which are investigating the use of stem cells in therapeutic treatments.
A large scale study in the US named Pisces II is currently underway to determine whether stem cells injected into a damaged area of the brain can help to improve function in people with ongoing disability following a stroke. Studies such as these could provide potentially ground-breaking stem cell treatments for stroke sufferers.
Additionally, a recent study featuring twenty-five 2-6 year old children with autism conducted at Duke University School of Medicine in North Carolina has revealed positive results following treatment using umbilical cord blood. The results suggested significant improvements in the children's social communication skills alongside a reduction in symptoms of autism following the treatment.
The number of clinical trials is expected to rapidly grow as stem cell technology continues to advance, posing the question of which celebs will decide to bank their baby's stem cells next?
Read more cord blood banking reviews here.