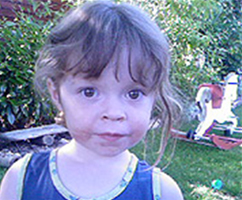 Three year-old Eva Winston-Hart from Leicestershire is getting better by the day after undergoing a stem cell transplant for leukaemia a few months ago in America. Now her family is campaigning for change in the UK.
Last November three year-old Eva Winston-Hart from Market Harborough, was diagnosed with a rare form of leukaemia.
Her need for a life-saving bone marrow stem cell transplant for leukaemia triggered off a search for a match that some of you took part in, but which finally, and somewhat surprisingly, resulted in a suitable donor being found in the United States.
A few months ago the extremely brave Eva underwent that all-important stem cell transplant for leukaemia. Amy Winston-Heart (mother) is very pleased with Eva's recovery; she is starting to put on weight and it is clear that she feels much better in herself "She's doing really, really well, improving everyday."
The family is now just waiting on a final bone-marrow result which they should have in the next week to check if any leukemics cells remain.
BBC.co.uk 20th September 2007
Leukaemia affects white blood cells, which are part of the body's defence against infection. It can develop quickly (acute), or more slowly (chronic).
Cord blood stem cells have the ability to re-grow the bone marrow through a transplant using autologous stem cells (the term used when the patient's own cells are used).
Learn more about stem cell usage
Cells4Life has stored several thousand samples here in the UK that can be accessed immediately and not shared with a public bank.
Need to know more before making a decision? You can talk to our team on 01444 873950.