Brain injury and stem cells
A Brain injury can be complex and diverse in its origins and the symptoms can vary enormously from incredibly mild to debilitating or even fatal. When a patient has a cerebral injury the supply of blood and oxygen to the brain is reduced or limited which results in the death of brain tissue.
Brain Injury Facts
At least 10 million traumatic brain injuries are serious enough to result in hospitalisation or death around the world annually [1]
There were 348,934 UK admissions to hospital with acquired brain injury (ABI) in 2013-14. That is 566 admissions per 100,000 of the population [2]
There were approximately 956 ABI admissions per day to UK hospitals in 2013-14 – or one every 90 seconds [2]
455 head injury admissions per day to UK hospitals in 2013-14 [2]
Men are 1.6 times more likely than women to be admitted for head injury. However, female head injury admissions have risen 24% since 2005-6 [2]
In 2013-14, there were 162,544 admissions for head injury. That equates to 445 every day, or one every three minutes [2]
It is estimated that the total cost of brain injury in the UK is at least £1billion per annum [3]
Road Traffic Accidents account for 50% of all traumatic brain injuries [3]
Falls are the leading cause among persons aged 65 years and older [3]
Transportation is the leading cause among persons under the age of 65 years [3]
Brain injury and Cord Blood Stem Cells
The application of cord blood stem cells in cerebral injury are being investigated in over 55 clinical trials.[4] Many of the problems associated with traumatic brain injury occur because neural tissue is destroyed as the brain is under pressure as it swells within the restricted space within the skull.[5]
Research increasingly suggests that cord blood stem cells have the ability to pass through the brain's protective barriers and enter the brain. Once in the brain these stem cells appear to initiate repair and promote healing. It isn't fully understood how cord blood stem cells do this but current theories suggest that a combination of powerful properties such as anti-inflammatory, growth factors and circulation boosters could be the key. It is believed that they travel directly to damaged areas within the brain and improve blood flow, regrow blood vessels and calm inflammation which contributes to the growth of healthy new neural cells in place of damaged tissue.[5]
Our releases
Cells4Life has released four samples between 2012 and 2018 for the treatment of cerebral injuries.
References
The information contained in this article is for information purposes only and is not intended to replace the advice of a medical expert. If you have any concerns about your health we urge you to discuss them with your doctor.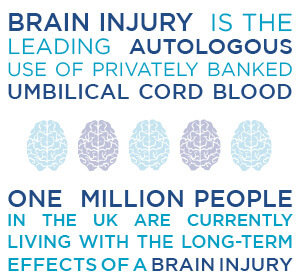 FIND OUT MORE, REQUEST YOUR WELCOME PACK TODAY