An estimated
1 in 100 children
(1)
in the UK have some form of autism and currently four times more boys are diagnosed with the condition than girls.
(2)
Autism is a spectrum disorder meaning that the symptoms are broad and vary greatly in severity. However they include problems with spoken language, social interaction and behaviour.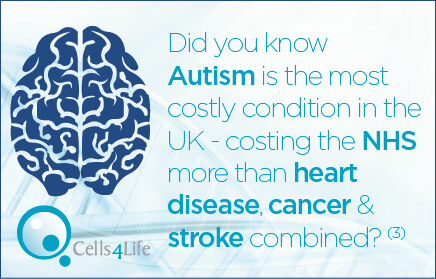 How can cord blood help autism?
For the very first time a potentially transformational study has demonstrated that stem cells from a child's own umbilical cord may offer a treatment for autism.
25 children on the autism spectrum between the ages of 2-5 received an infusion of their own banked umbilical cord blood. Clinical assessments and parental reports indicated that more than 70% of the children saw improvements in autism symptoms including:
Behaviour
Communication
Socialisation
with the most severely affected children seeing the greatest improvement.
Researchers also found that the treatment was safe with no significant downsides experienced.
"We are pleased that this study demonstrated the safety of treating children with ASD with their own cord blood. We're also encouraged that, while small and non-randomized, there were observed improvements in a majority of the children reported by clinicians and parents."
Dr. Joanne Kurtzberg, a cord blood specialist at Duke University who worked on the study
The findings of this study were published in the journal Stem Cells Translational Medicine in April 2017.
This trial is now being followed up by phase II randomised clinical trial and Cells4Life have already been in contact with a number of parents and have already transported client samples to Duke ahead of the next stage.
Private cord blood banking for autism
Stem cells found in the umbilical cord are often associated with the treatment blood disorders such as leukaemia, however it has long been recognised that their real potential lies in the field of regenerative medicine.
Up until now neurological conditions like cerebral palsy, stroke and autism have been untreatable. The best we could do was to manage the symptoms and provide palliative care, but we were not able to repair the damage itself. Cord blood has show great promise in the treatment of these conditions, providing suffers of often debilitating symptoms with improved quality of life and, in some cases, has even enables patients to stand, walk and even talk for the very first time.
Whilst it is hoped that in the future cord blood therapy for brain injury will be available to everyone who can find a suitable match, currently such therapies are only available to those with privately banked umbilical cord blood in storage.
References
The NHS Information Centre, Community and Mental Health Team, Brugha, T. et al (2012)
Request a Welcome Pack
Find out more about cord blood banking by downloading a Welcome Pack now.