Scientists at Duke University, North Carolina have begun investigating the effect of cord blood on sufferers of adult stroke.
100 patients between 18-90 years of age will undergo umbilical cord blood transfusions between 3 and 10 days after their stroke. They will then be monitored for results.
The trial is designed to specifically focus on patients who have suffered ischemic strokes, which occur when an artery to the brain is blocked.
A majority of strokes are ischemic, which means the trial could potentially improve the prognosis of millions of people worldwide.
This is not the first time that doctors have explored the effect of stem cell transplants in sufferers of adult stroke.
A 2016 study at Stanford University School of Medicine previously studied the impact of injecting stem cells into the brains of patients who had suffered their first and only stroke in the past three years.
Led by Dr. Gary Steinberg MD, PhD, professor and chair of neurosurgery, doctors targeted the area of the brain where the stroke had occurred.
Though three quarters of patients reported headaches after the procedure, doctors found no noticeable side effects attributable to the stem cells.
Patients all reported improved motor function but the true success story came in the form of Sonia Olea Coontz from Long Beach, California.
"Sonia could not move her right arm," said Dr. Steinberg. "She had severe difficulty walking. She had problems communicating. You couldn't understand her."
After her injection, however, Sonia was cured of her paralysis and impaired speech. She was able to walk again.
"My right arm wasn't working at all," said Sonia. "It felt like it was almost dead. My right leg worked, but not well. After my surgery, they woke up."
About stroke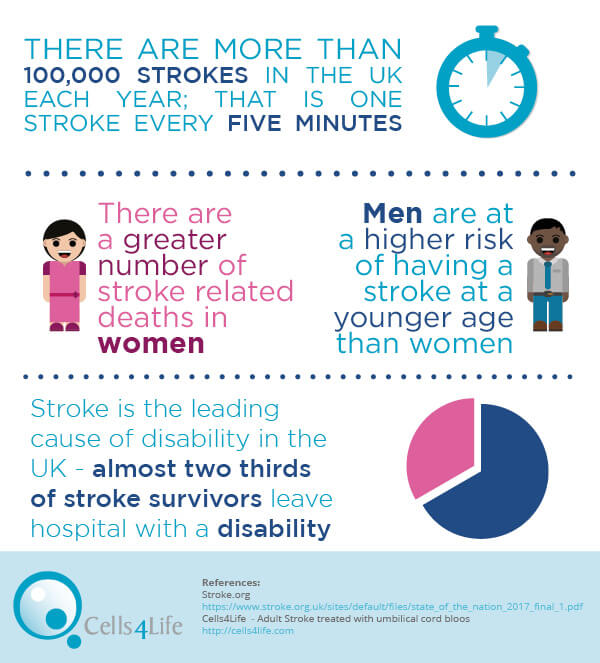 Request a Welcome Pack
Find out more about cord blood banking by downloading a Welcome Pack now.