Choosing between public and private cord blood banking can be a daunting decision, especially considering that cord blood collection is a once in a lifetime opportunity only possible at birth.
A lot of factors will affect your choice – from the costs to the potential benefits and likely uses. Hopefully, this breakdown will make your decision a little easier.
How much does cord blood banking cost?
Public
There is no cost attached to public cord blood banking; it is a donation.
Instead, public banks cover their costs by charging between £20,000 and £40,000 for the release of a donated unit for therapy.
Private
The cost of private banking varies according to the method and system used.
Cells4Life offers several different pricing plans, which start from £1495.
Most private banks charge an annual storage fee. These costs ensure that there is an on-going revenue stream to cover storage in perpetuity that is not dependent on the bank generating new business in the future.
There is usually no charge to release a sample for treatment.
Where can I use these services?
Public
At the moment, only a few hospitals in the UK can accept donations. Samples go to either the NHS Cord Blood Bank or the Anthony Nolan Stem Cell Register and are then added to several worldwide databases.
NHS Cord Blood Bank (6)
Luton and Dunstable Hospital
Watford General Hospital
St George's Hospital
University College Hospital
Barnet General Hospital
Northwick Park Hospital
Anthony Nolan (4)
Saint Mary's Hospital, Manchester
King's College Hospital, London
Leicester Royal Infirmary
Leicester General Hospital
Private
Cells4Life offers private collection services at almost every maternity unit in the UK, including private maternity hospitals. We also offer collection in most parts of the world.
Who owns a cord blood sample?
Public
Donors transfer ownership when they donate their child's umbilical cord to a public bank. This means that they no longer have control over how their sample is used. Instead, the bank is free to send the sample anywhere in the world, where it could be used to treat or even cure a matched patient.
It is possible that the sample would still be available in the public bank if the donor or family member needed to use it. However, this is unlikely as most units do not meet the public banking threshold and are either used for research or disposed of entirely.
Private
Umbilical cord blood and tissue belong exclusively to the child. As parents, you have authority over its use until your baby is capable of making a decision for themselves.
Why do people store their cord blood samples?
Public
Public donation is motivated by a desire to help others. At the moment, public banks do not have enough samples to treat everyone in need of a transplant so donation could make all the difference.
In the UK, 65,000 litres of cord blood are discarded as waste per year. If just 50,000 more litres were saved and donated to a public bank, up to 200 more lives could be saved every year.
Private
The motivations behind privately banking cord blood vary from parent to parent…
Safeguarding baby's future

– most parents generally do not expect their baby's cord blood to be used to treat childhood illnesses, as these are quite rare. Rather, they understand that stem cell therapies are likely to help their child once they begin to suffer from age-related conditions later in life

Specific conditions

– many parents store with specific conditions in mind. Some may already have a child suffering from an illness and would like to use their other child's cord blood to treat them. Others may have a family history of a condition that could potentially be treated with cord blood.
How are cord blood samples used?
Public
Blood

disorders

–

publicly donated umbilical cord blood has been predominantly used for the treatment of blood disorders such as leukaemia and anaemia.

Research – 

there are more than 1,000 clinical trials exploring the future applications of cord blood.
Private
There are generally two main uses for privately banked samples:
Blood disorders –

historically, privately banked units have also been used in the treatment of blood and immune disorders, especially for siblings. However this has begun to change…

Regenerative therapy – in 2015, 47% of private releases were used for regenerative treatment. This proportion has only increased in recent years as the promise of stem cell therapy has begun to be realised.
For example, umbilical cord blood is now being routinely used at Duke University, North Carolina to treat brain conditions like cerebral palsy, stroke and autism. As regenerative medicine continuous to develop, it is anticipated that 1 in 3 people will benefit from one of these therapies in their lifetime.
FACT: In the UK, 1 in 500 people suffer from cerebral palsy.
1 in 100 suffer from autism.
Who uses cord blood samples?
Public
Matched patients –

a sample can be used by a matched patient in need of a potentially life-saving stem cell treatment

Scientists –

it is possible that your baby's sample will facilitate ground-breaking research into future stem cell applications. Stem cell research is currently one of the most exciting areas of medicine, with new developments happening all the time

Discarded –

public banks only store samples that are likely to contain enough cells for use in currently established treatments. Most treatments today require larger units, which means smaller samples are sometimes discarded or rejected.
With Cells4Life, however, these smaller samples are still therapeutically useful. Our TotiCyte cord blood processing system yields three times more stem cells than any other method, so a 10-20 ml sample of cord blood would be just as potent as a 30-60ml sample processed using an alternative system.
Private
Baby –

the donor can use their sample at any point in life, whenever and however they need.

Siblings & parents –

your baby's cord blood can be used by mum and dad and there is a 3 in 4 chance that their brothers and sisters could benefit too.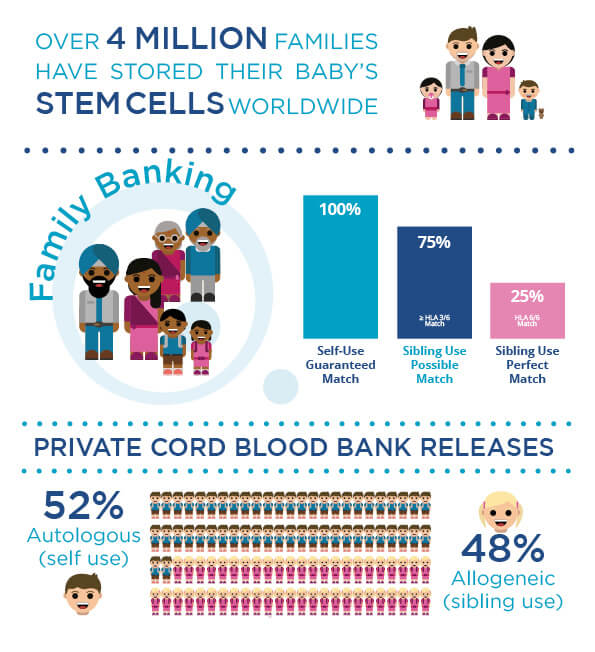 FIND OUT MORE, REQUEST YOUR WELCOME PACK TODAY
All you need to know to make an informed decision.
Provide your contact details to request:
– Complete Welcome Pack and Parent's Guide
– Information via email
– Contact from our specialist advisors