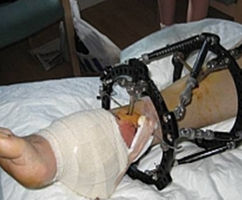 Stem cell skin treatment for Kent man: a Gillingham man who faced losing his leg in a climbing accident saw it saved thanks to a revolutionary 'glue' made from stem cells.
Andrew Kent's right leg was broken in five places by a falling boulder while he was climbing with his son in the Langdale Pikes in the Lake District in April. The 53-year-old was rushed to hospital in Carlisle, where the broken bones were pinned back together in three operations.
But his leg was still in a bad condition and the wound became seriously infected. He was transferred to the Spire Alexandra Hospital in Chatham, where Anan Shetty, orthopaedic surgeon, performed the stem cell treatment: the first in Britain.
It involved removing stem cells from the bone marrow in Mr Kent's hip. The cells were then mixed with a collagen gel known as Cartfill.
This formed a paste that was smeared into the fractures. His leg was then placed in a metal cage, gently squeezing the broken bones back together.
Kent Messenger 17th December 2009
Learn more about stem cell usage
Cells4Life is the only laboratory that is open fully 24 hours a day, 365 days a year to process quickly.
Need to know more before making a decision? Call our specialists now on 01444 873950.