The pandemic has seen the emergence of numerous stem cell therapies to combat the virus and its disruption of human society across the world. In particular, a growing number of clinical trials are using mesenchymal stem cells to treat COVID-19.
Here is a quick update on the latest studies and clinical trials using stem cells in the treatment of the coronavirus.
Stem cell therapy clinical trials for COVID-19

Since the outbreak of the coronavirus, an increasing number of clinical trials have emerged to tackle the virus. Among suggested treatments, stem cell-based therapies have been put forward to alleviate the symptoms and treat COVID-19.
Last month, CellTrials.org published a compilation of all cell-based therapy clinical trials registered worldwide for use in COVID-19 treatments or COVID-19 related conditions. Within this, the clinical trials specifically using perinatal cells were identified.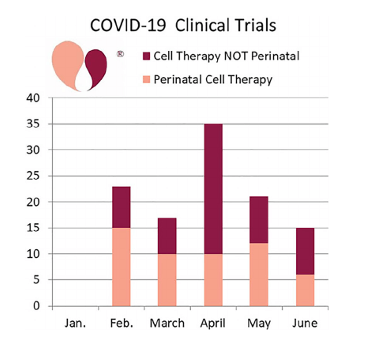 According to the data, 111 clinical trials were registered in the first half of 2020 which were investigating stem cell therapy in the prevention and treatment of COVID-19 symptoms. Nearly half (48%) of these trials used cells from perinatal sources.
Mesenchymal stem cells (MSCs) were the most common strategy adopted by these studies. In fact, of the COVID-19 trials using perinatal sources, 79% used perinatal MSCs. Among these trials, umbilical cord blood, tissue and placenta were frequently used.
What are perinatal stem cells?

When it comes to stem cell treatments, a wide range of stem cell types exist. However, perinatal stem cells are becoming more frequently used. Perinatal stem cells are those derived immediately before or after birth. These stem cells include those sourced from the umbilical cord blood and tissue, placental blood and tissue, as well as the amniotic tissue and fluid.
The majority of perinatal stem cells are multipotent, meaning they are capable of differentiating into various types of stem cells. In particular, the ability of cord blood stem cells and tissue to transform into cells of the blood and immune system mean they hold significant potential for use in treatment of many diseases such stroke, Alzheimer's, heart disease, and now COVID-19.
An update on the latest studies using stem cells to treat COVID-19

Mesenchymal stem cells (MSCs) are considered to have broad clinical application potential, particularly as a treatment for Acute Respiratory Distress Syndrome (ARDS) – a type of respiratory failure characterised by rapid onset of widespread inflammation in the lungs.
Due to their unique ability to promote tissue repair and have immunoregulatory effects, stem cells are bringing hope for a treatment for COVID-19 patients with ARDS, whose mortality rate is significantly high.
Currently, there are over 20 clinical trials using MSCs in the treatment of COVID-19. One recent study involving 7 COVID-19 patients also suffering with pneumonia and ARDS received MSC transplants. The results have shown clinical improvements in all of the patients 14 days after the stem cell treatment, with no adverse effects.
The results of this study are reflected in another COVID-19 case published earlier this month. The patient, a 72-year-old man with chronic conditions, had tested positive for COVID-19. His condition quickly progressed to severe, requiring intubation and intensive care. Following stem cell treatment using umbilical cord derived MSCs, the patient showed no adverse effects and overall clinical signs were improved.
Other studies have discovered that treatments using MSCs can prevent the overactivation of the immune system and promote repair due to their powerful anti-inflammatory and regenerative properties.
Whilst the initial data of these studies are promising, the sample sizes are small and additional large-scale and longer-term studies are needed to further validate these results and explore the therapeutic effects of MSCs.
However, with the development of research involving mesenchymal stem cells for the treatment of COVID-19, MSC therapy could provide life changing treatment against the virus and may be considered for compassionate use in selected patients, particularly for those in critical condition.
References
Frances Verter and Pedro Silva Couto, (2020) "Development of COVID-19 Therapies from Birthing Tissues and Cord Blood", available at:
https://stemcellsjournals.onlinelibrary.wiley.com/doi/epdf/10.1002/sctm.12818
Cade Hildreth, (2017) "Definitive Guide to Perinatal Stem Cells", available at:
https://bioinformant.com/perinatal-stem-cells/
CellTrials.org, (2020) "CellsTrials.org COVID-19 Clinical Trials: A Moving Target".
Rehile Zengin, et al., (2020) "Mesenchymal stem cell treatment in a critically ill COVID-19 patient: a case report", available at:
http://sci.amegroups.com/article/view/51176/html
Kun Xiao, et al., (2020) "Mesenchymal stem cells: current clinical progress in ARDS and COVID-19", available at:
https://stemcellres.biomedcentral.com/articles/10.1186/s13287-020-01804-6
Radbod Darabi and Yong Li, (2020) "Stem cell therapies for COVID‐19: Strategy and application", available at:
https://onlinelibrary.wiley.com/doi/10.1002/jcb.29816#:~:text=As%20mesenchymal%20stem%20cells%20(MSCs,COVID%E2%80%9019%20patients%20with%20pneumonia
Choudhery and T. Harris, (2020) "Stem cell therapy for COVID‐19: Possibilities and challenges", available at:
https://onlinelibrary.wiley.com/doi/10.1002/cbin.11440

Request a Welcome Pack
Find out more about cord blood banking by downloading a Welcome Pack now.